Upcoming dates...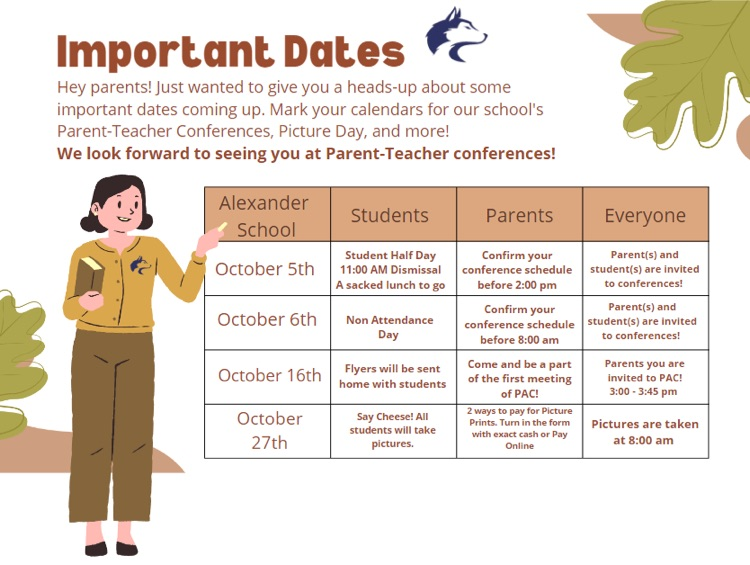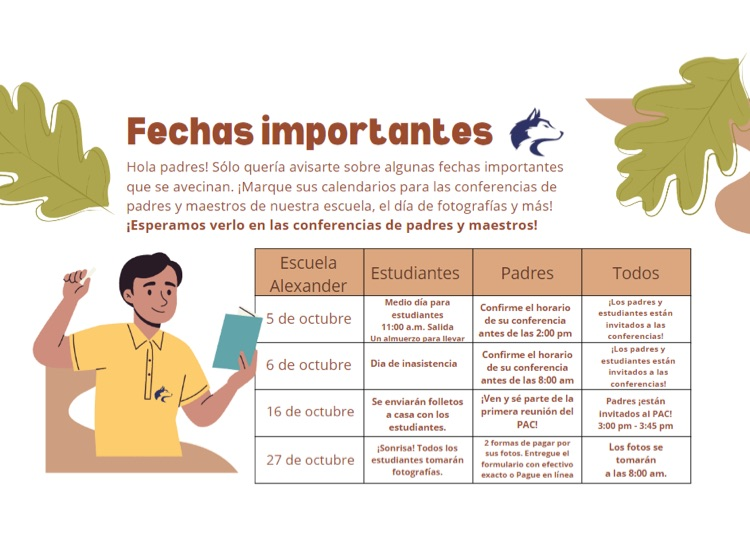 Parent /Teacher Conference are around the corner. Teachers are reaching out to you to sign-up for a time slot. ///// Las reuniones de padres y profesores están a la vuelta de la esquina. Los maestros están llegando a usted para inscribirse en un espacio de tiempo.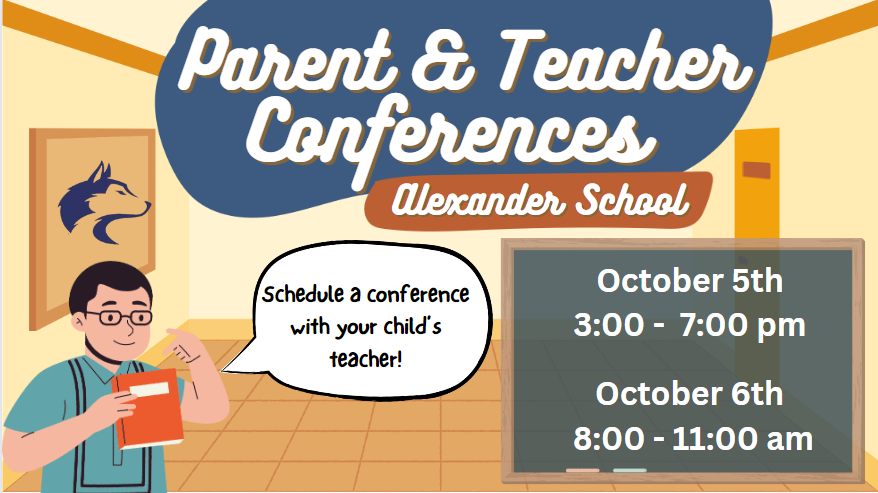 Rosalind Franklin's Community Care Connection (Mobile Clinic) offers FREE health screenings all over Lake County including a monthly site at North Chicago Public Library. Call 847-578-8670 for more information. Community Care Connection (clínica móvil) de Rosalind Franklin ofrece exámenes de salud GRATUITOS en todo Lake County. De hecho, tienen un sitio mensual en la Biblioteca Pública de North Chicago. Llame al 847-578-8670 o 224-809-7044 para recibir mas información.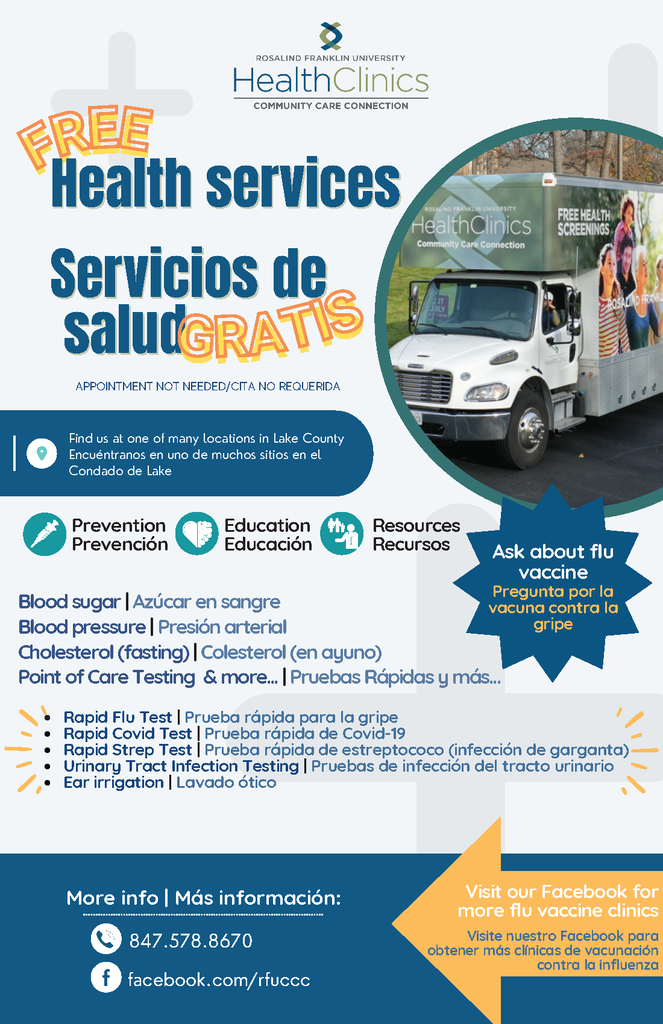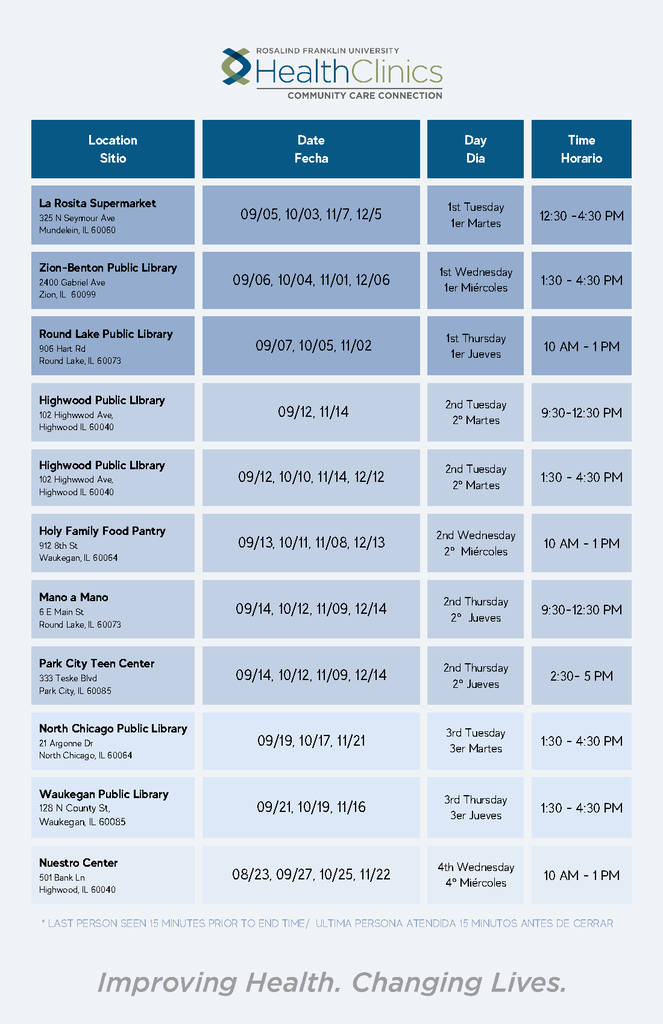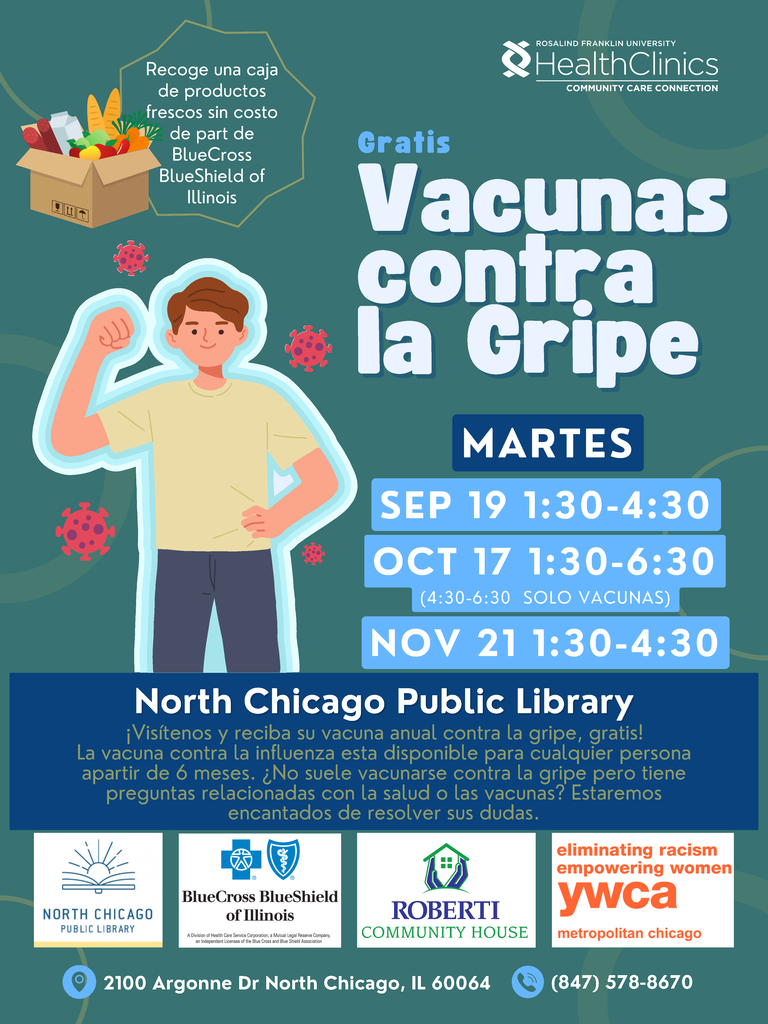 Let Your Voice Be Heard and Help D187 Plan for the Future! ¡Haz que se escuche tu voz y ayuda a D187 a planificar el futuro!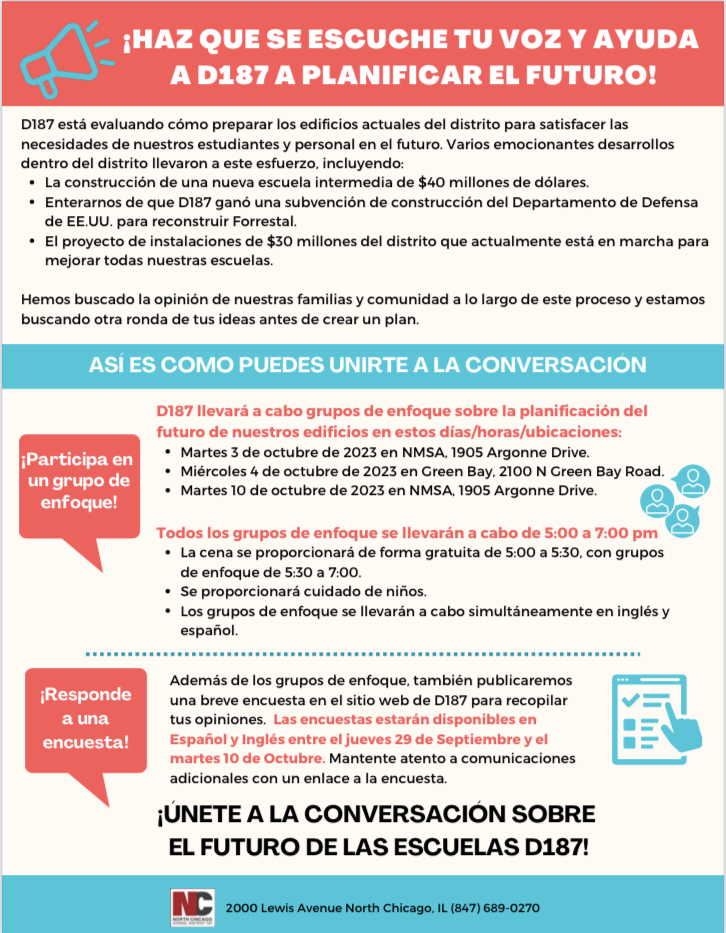 The Independent Authority and the Financial Oversight Panel for North Chicago Community Unit School District 187 will hold a public hearing on the renewal of the 3-year e-Learning Plan for the school district. Public members are invited to attend the hearing and provide input on the e-Learning Plan. Date and Time: Tuesday, September 26, 2023 at 6:00 pm. Location: North Chicago Community High School, 1717 17th Street, North Chicago. A copy of the 3 Year e-Learning Plan is also available for public review at the district office, 2000 Lewis Avenue, North Chicago, IL 60064.

¡Apreciadas familias del distrito escolar 187, no olviden que mañana es el primer dia que estará abierta la despensa de comida (Family Care Closet) de 8:00-10:00 am y de 2:00-4:00 pm en la High School de North Chicago! Dear District 187 families, don't forget that tomorrow is the first day that the Family Care Closet is open from 8:00-10:00 am and 2:00-4:00 pm at North Chicago Community High School!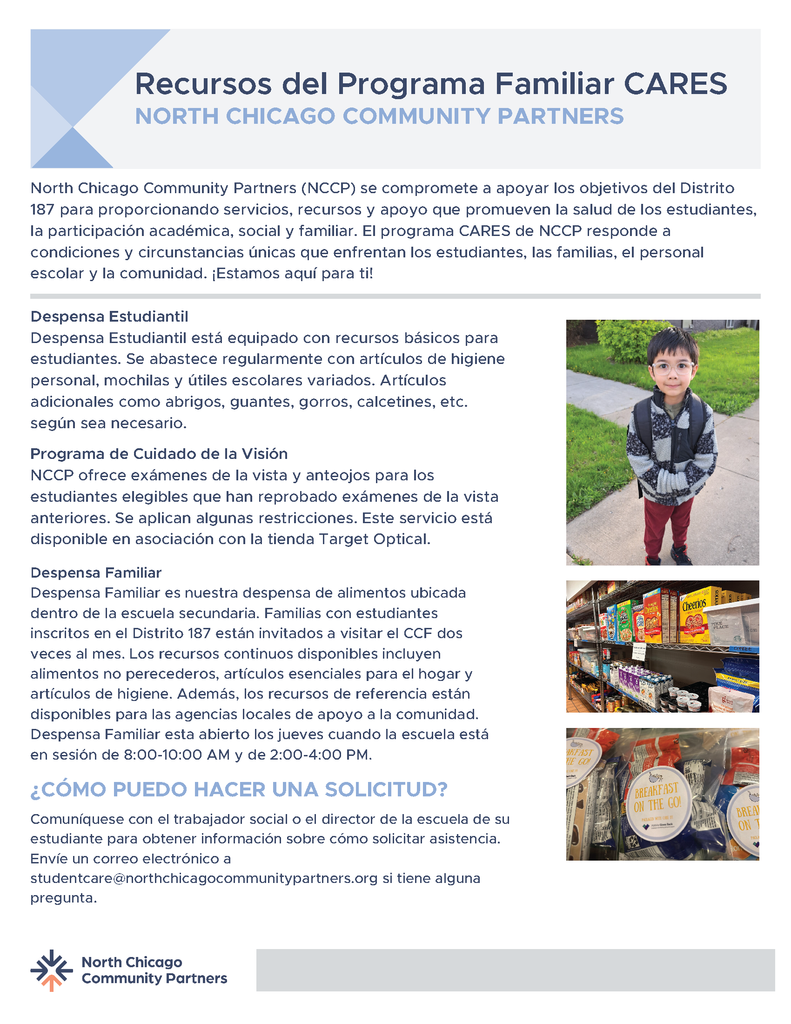 No School Monday, September 4th - Labor Day
We will be starting nwea map testing. Please read over the flyer for details.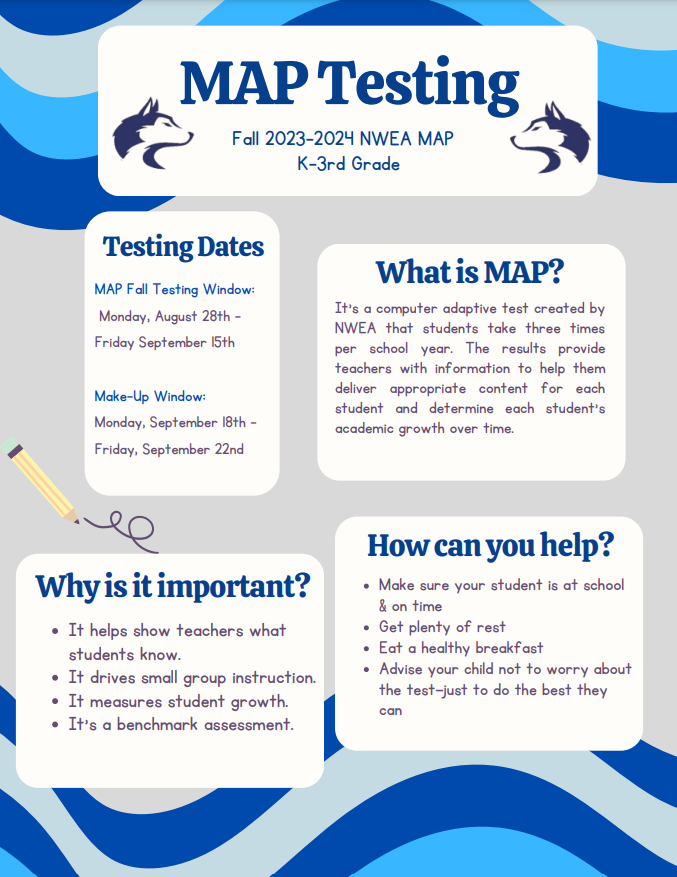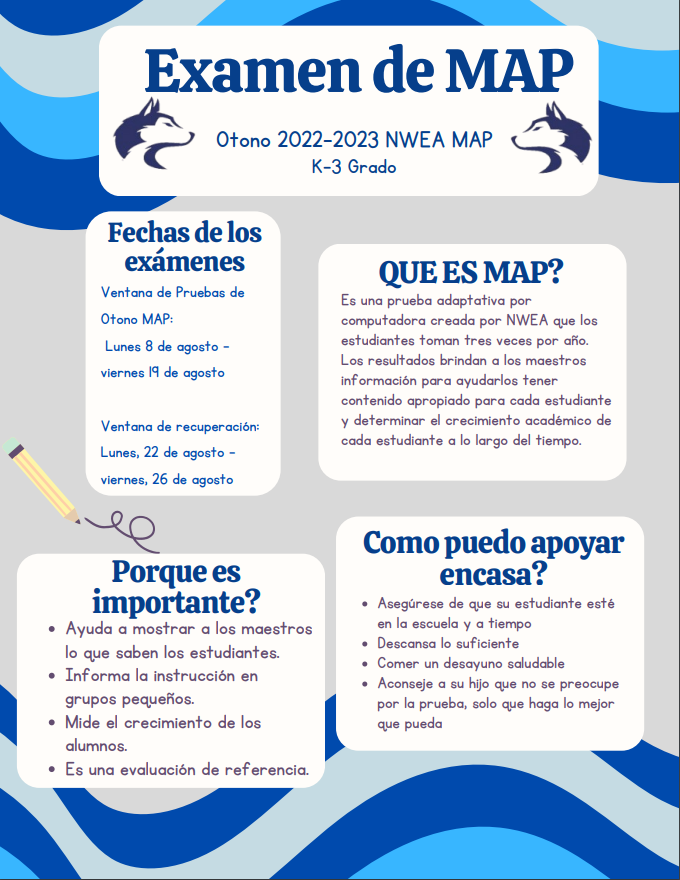 Good Morning Husky Families, Please read the new policy around snacks. Buenos días familias Husky, Por favor, lea la nueva política sobre aperitivos.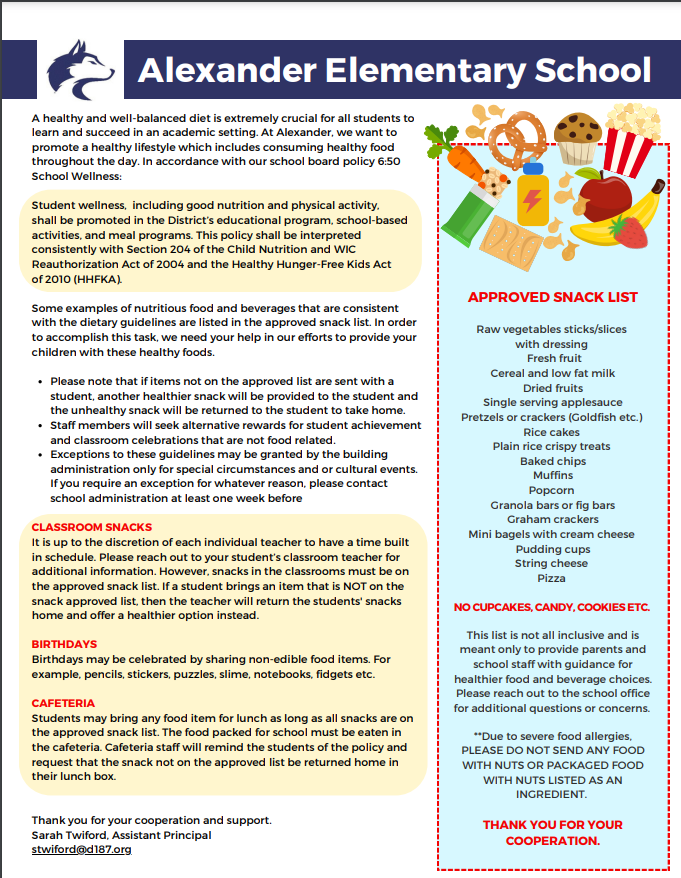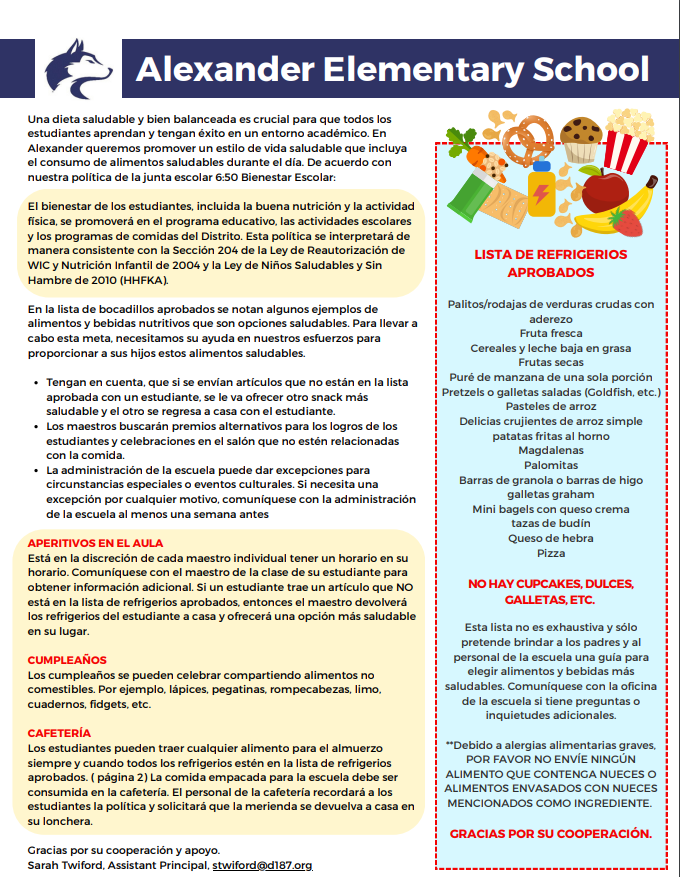 Esta encuesta es para recopilar información sobre cómo los padres y la comunidad se sienten en lo que respecta a la seguridad escolar y la maximización de la colaboración para la mejora del aprendizaje de los estudiantes. Los datos recogidos de esta encuesta ayudarán a hacer mejoras hacia la creación de una cultura segura y de colaboración. Su opinión es valiosa e importante. La encuesta se cierra el viernes 25 de agosto de 2023.
https://www.surveymonkey.com/r/North_Chicago_CUSD_187_HRS_Level_1_Parent_Survey
This survey is to gather information on how the parents and community feel in regards to school safety and maximizing collaboration for the enhancement of student learning. The data collected from this survey will help make improvements toward creating a safe and collaborative culture. Your feedback is valued and important! The survey closes on Friday, August 25, 2023.
https://www.surveymonkey.com/r/North_Chicago_CUSD_187_HRS_Level_1_Parent_Survey
Please help support our new PAC. Por favor, ayuda a apoyar nuestro nuevo PAC.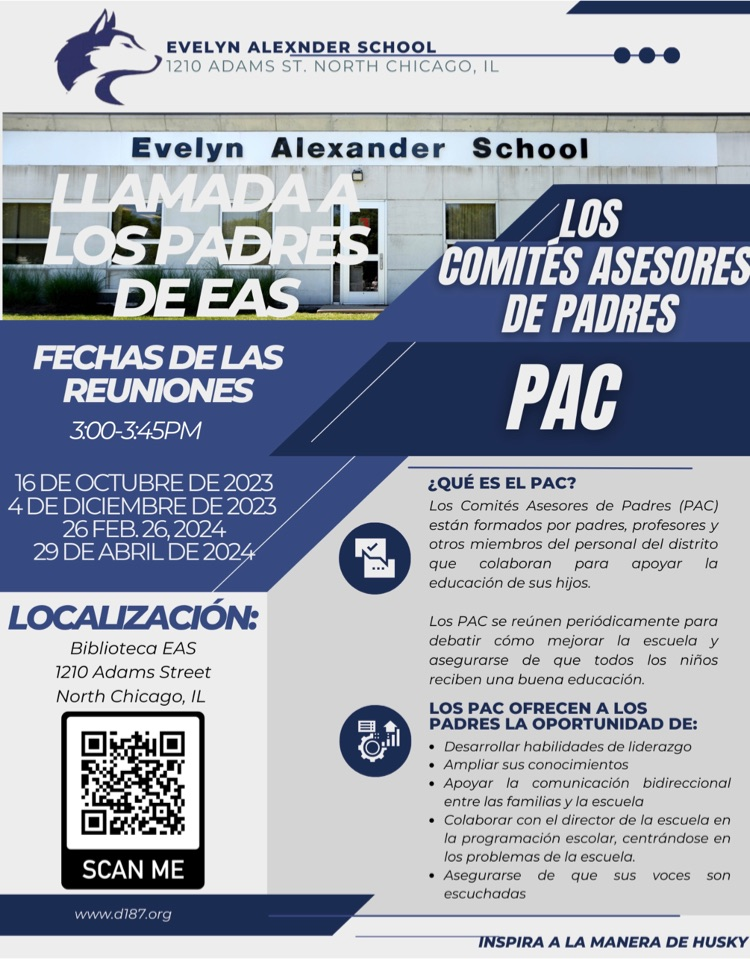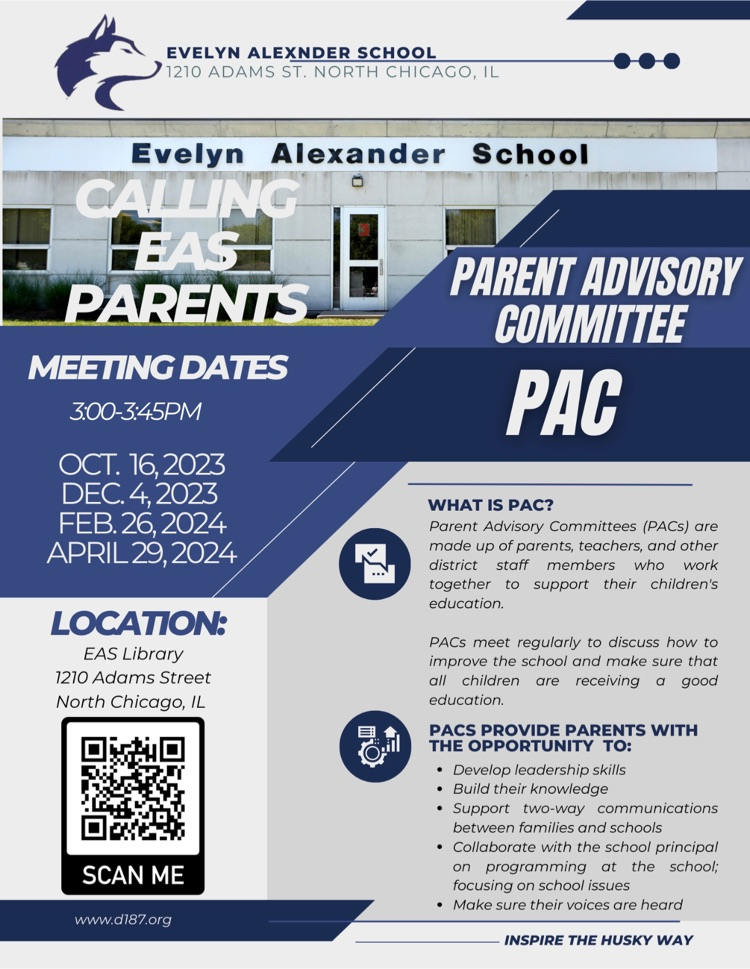 In-person student registration will be closed at D187 schools Wed, 8/16 - Fri, 8/18, and Mon, 8/21 due to staff training and the start of school. Registration is available online at d187.org. --La inscripción de estudiantes en persona se cerrará en las escuelas D187 del miércoles 8/16 al viernes, 8/18 y lunes 8/21 debido a la capacitación del personal y al comienzo de la escuela. La inscripción está disponible en línea en d187.org.

El 7 de Agosto de 10:00 am- 2:00 pm en Roberti Community House estarán ofreciendo útiles escolares, cajas de frutas y vegetales, exámenes de salud para los adultos, y exámenes físicos de deporte GRATIS para las familias. On August 7th from 10:00 am -2:00 pm, the Roberti Community House will be providing FREE school supplies, produce, health screenings for adults, and sports physicals for families.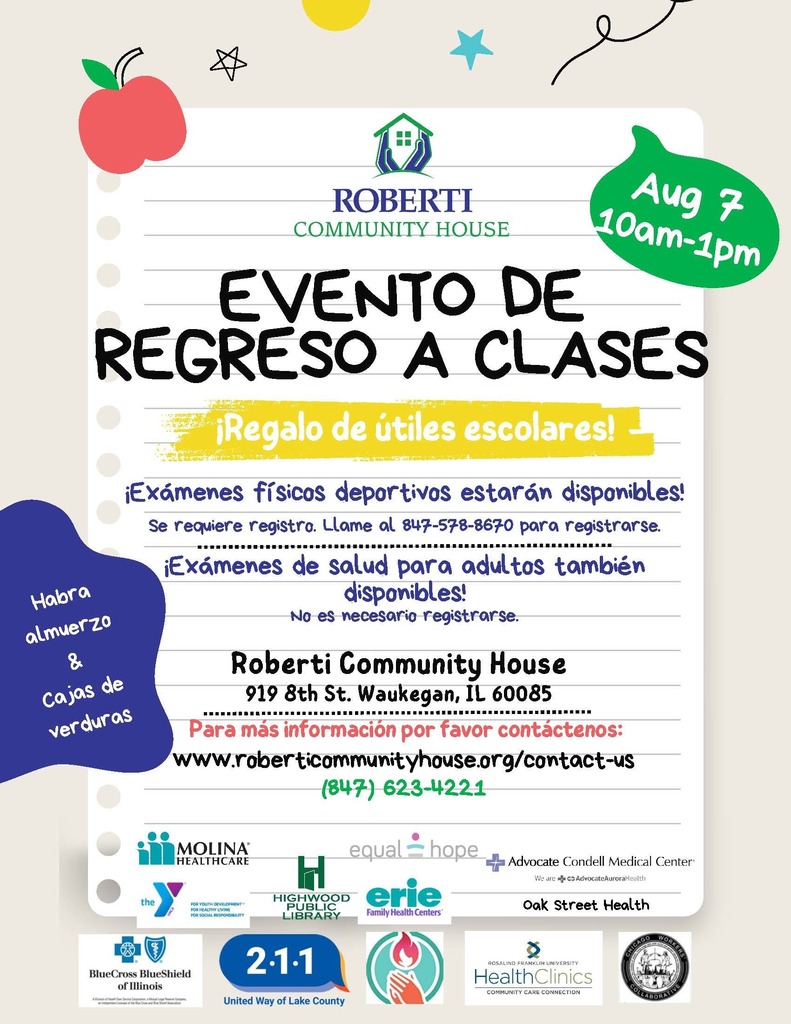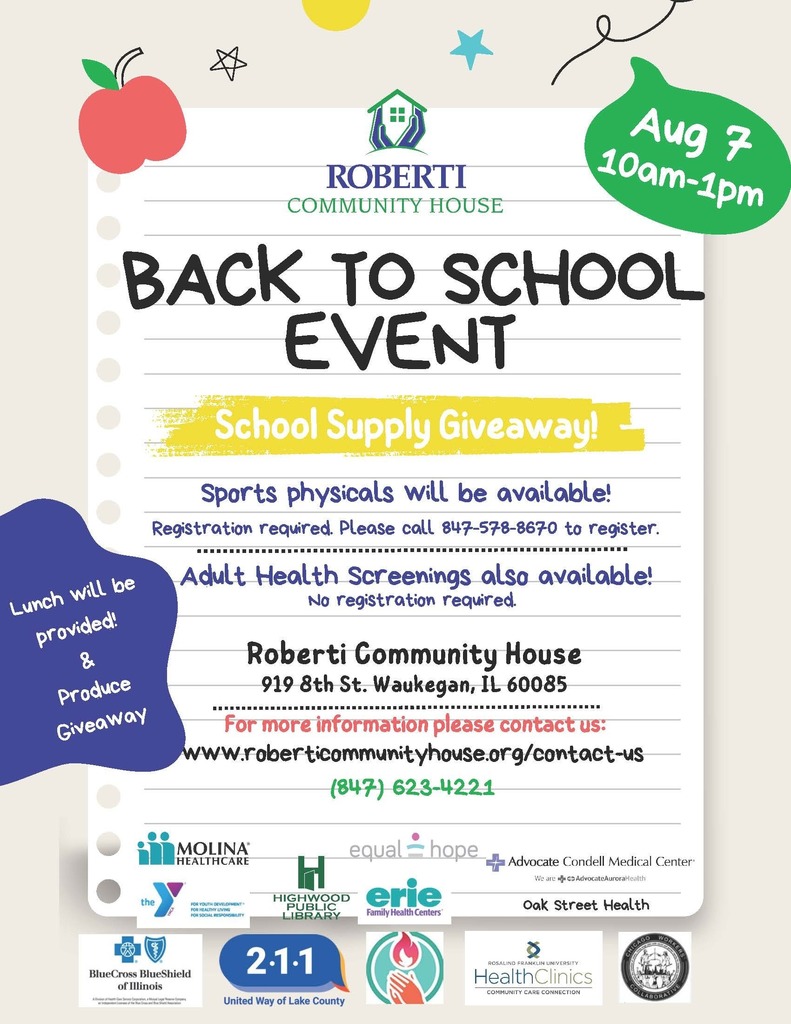 ¿Tiene preguntas sobre los servicios bilingües? ¿Quiere aprender sobre los derechos de los padres? ¿Quiere aprender cómo construir una conexión más fuerte entre su familia y la escuela de sus hijos? ¡ Registrese a los talleres GRATIS! Llame al 224-809-7044 si tiene preguntas. Do you have questions about bilingual services? Do you want to learn about parent/guardian rights? Do you want to build stronger connections between home and school? Register for these FREE virtual workshops! Call 224-809-7044 with any questions.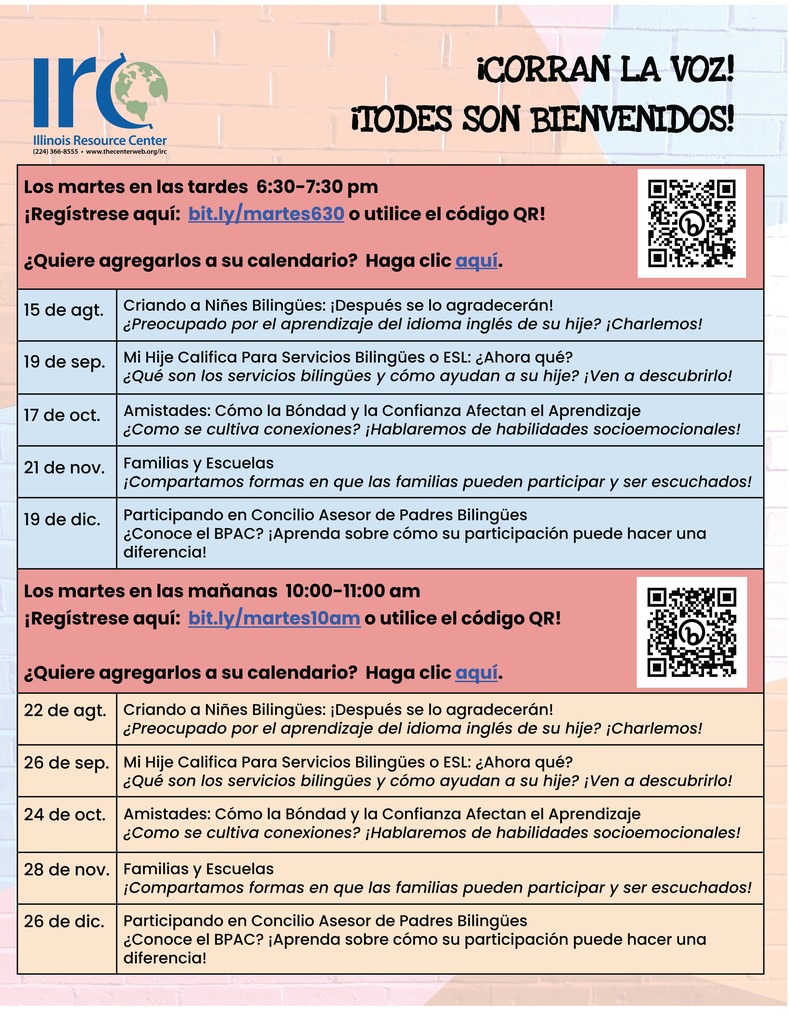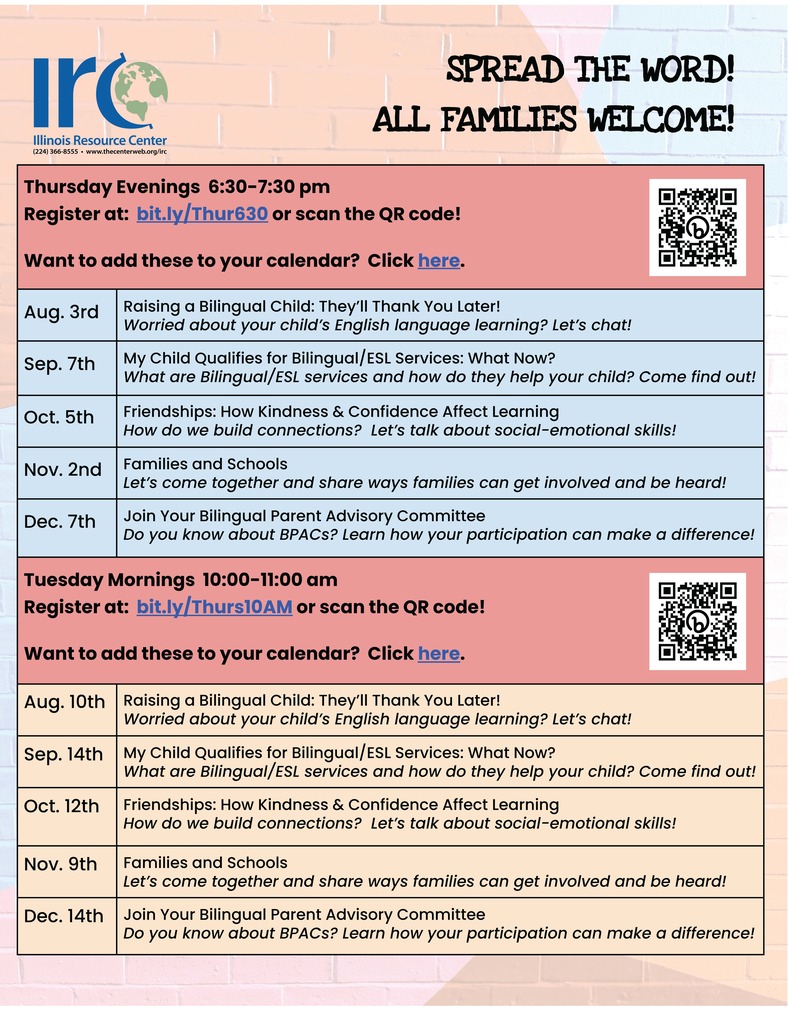 Dear Alexander Families, We hope you're enjoying your summer! As the first day of school approaches, we wanted to remind you that it's important to register your children as soon as possible. Please visit our website or stop by the school office on our upcoming event dates. If you have any questions or concerns, please don't hesitate to contact us. Thank you for your cooperation and we look forward to seeing you on the first day of school! ________________________________________________________ Estimados padres de la escuela Alexander, ¡Esperamos que estén disfrutando de su verano! A medida que se acerca el primer día de clases, queríamos recordarles que es importante que registren a sus hijos lo antes posible. Visite nuestro sitio web o pase por la oficina de la escuela en nuestras próximas fechas de eventos. Si tienen alguna pregunta o inquietud, no dude en ponerse en contacto con nosotros. ¡Gracias por su cooperación y esperamos verlos en el primer día de clases!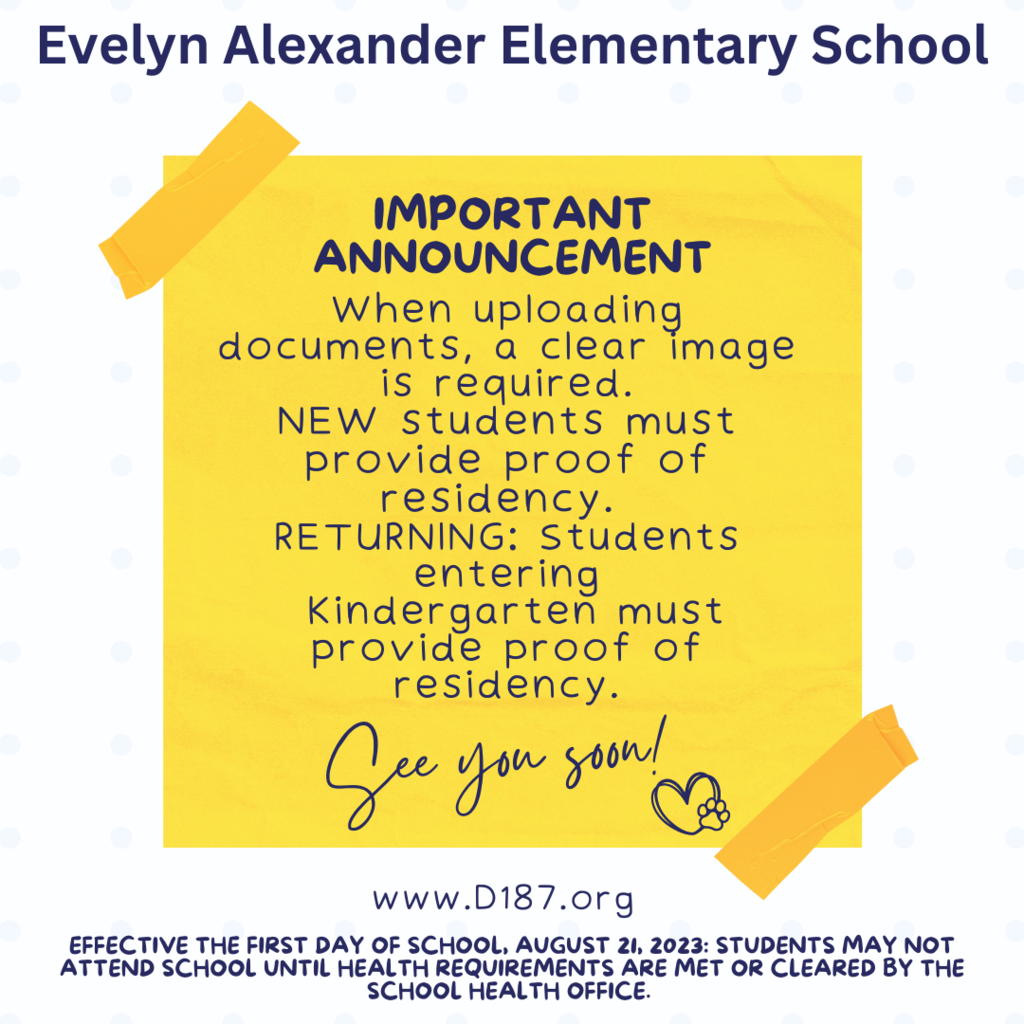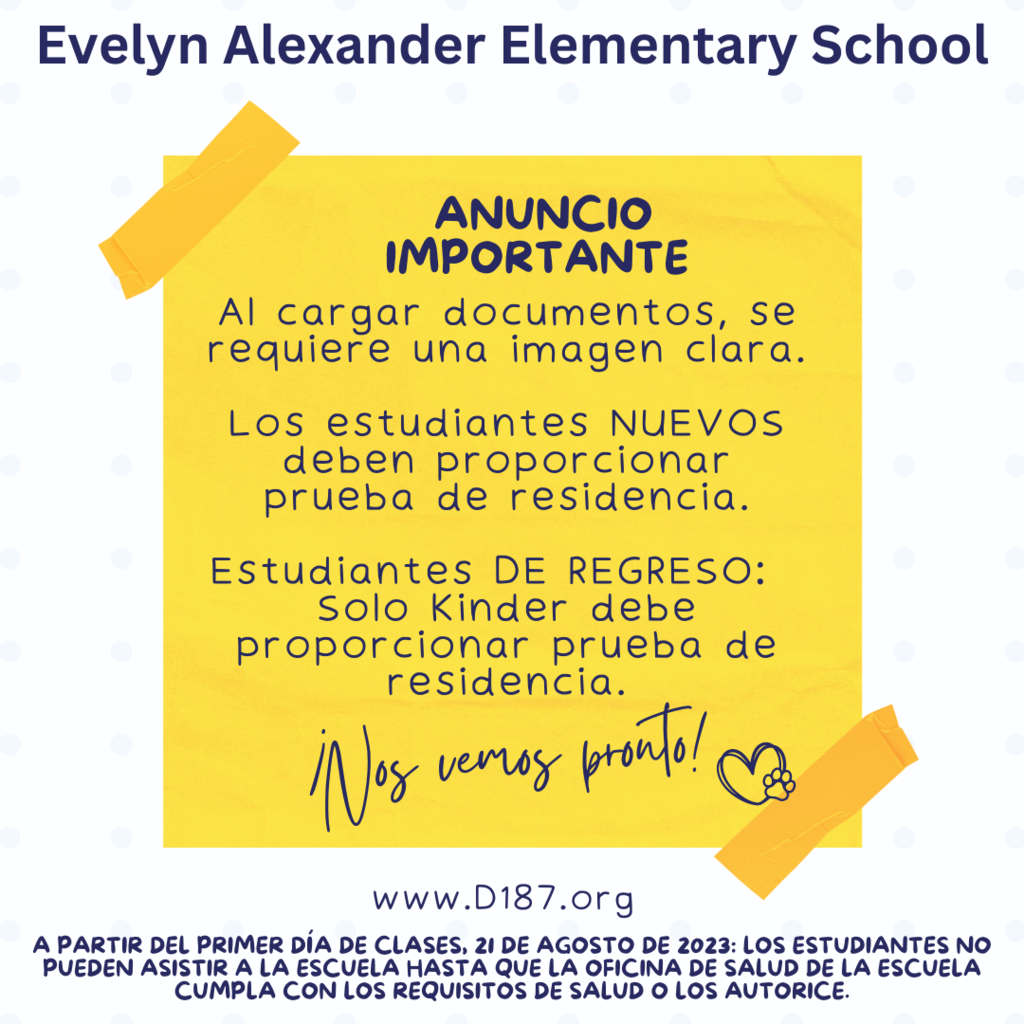 Due to the weather conditions, we will unfortunately have to cancel our Dinner of D187 scheduled for tonight (July 26th) at Alexander. Please plan to join us next week (8/2) at Hamlet Park - weather permitting. Debido a las condiciones meteorológicas, lamentablemente tendremos que cancelar nuestra cena de D187 prevista para esta noche (26 de julio) en Alexander. Por favor, planee unirse a nosotros la próxima semana (8/2) en Hamlet Park - si el tiempo lo permite.